Building on a Legacy of Excellence: Quality and Service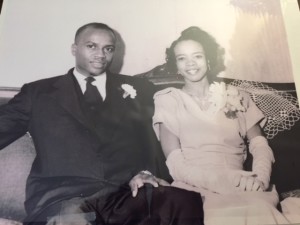 January 1, 2018
As we embark upon a new year, the staff of Long & Son Mortuary Service, Inc. takes this opportunity to honor the fond memories and reflect upon the firm foundation left to us by our beloved founders:  Lem and Eddie V. Long.  We knew that they would not live forever; and yet, we still believed they would.  Thankfully, their "larger than life" personalities, their venerable wisdom, and their unwavering love and commitment to family, faith, and community can never be forgotten.
More than 70 years ago, after honorably serving his country in World War II, Lem Long, Jr. returned home to Charlotte with a vision of entrepreneurship, leadership, and service.  As a product of the economic and psychological effects of both the Great Depression and Jim Crow, Lem valued hard work and financial independence.  After completing his military duties, Lem went to work for McEwen Funeral Home in Mint Hill.  Lem's employment at McEwen, a "white" funeral home, inspired him to go into the funeral business for himself.  As a result, he became a licensed funeral director in 1949 and continued serving families until shortly before his death in February of 2016.
In 1947, Lem married Eddie Vaughn, a beautiful and educated school teacher from the Hickory Grove area of Charlotte.  She possessed a unique combination of class, sophistication, and an uncanny ability to simply "get things done" at home and in business.  Mrs. Long possessed a nurturing spirit and had the qualities necessary to attend to the finer details of serving the public.
Together, Lem and Eddie provided their families (blood and business = family) with the personal and professional roadmaps for continued success.  In their honor, the Long & Son staff remains committed to serving the public with the same principles of quality and service upon which the business was built 70 years ago.  We take pride in the legacy we have received and will continue to honor it by providing the service that the community knows and trusts.
In that regard, please allow Long & Son to reintroduce ourselves as the new model of an old classic.  Many of you are familiar with Long & Son because we served your family during the loss of a loved one.  Perhaps you have heard of "Long's" by "word of mouth."  However, in the age of technology, most of us are turning to the internet for information about products, services, and people.  In order to broaden our service to the public – physically and virtually – the Board and staff of Long & Son have committed to a revitalized internet presence designed to inform the public about tough issues that may arise when the inevitable occurs in your family.
Please accept our reintroduction by visiting our blog for information on such topics as the importance of preneed planning, staff introductions, legal developments affecting your estate plans, etc.  By broadening our efforts to serve the community in this manner, we hope to continue the Long & Son brand for another 70 years and beyond.
Thank you for your support and Happy New Year!
Erin McNeil Young, Esq.