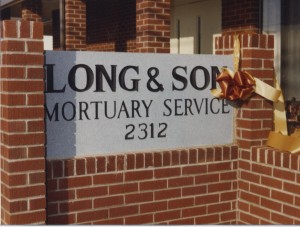 1947- Long's Mortuary was established and opened for business at 908 Forest Street, Charlotte, North Carolina under the management of Lem Long, Jr. and  his uncle, Beamon Long. The business grew out from under the services of McEwen's funeral home in Mint Hill, North Carolina.
1948- William T. Aery joined the staff and for 3 years the business was Long & Aery Funeral Home.
1951- Longs Mortuary relocated to 218 N. Caldwell Street and remained there until 1968.
1968- Longs Mortuary relocated again to its present facility 2312 Beatties Ford Road.
1971- The name changed to Long & Son Mortuary Service with (Mrs.) Eddie Vaughn Long, wife of Lem Long, Jr. and their son, Lem Long III joining the Mortuary staff. Long and Son Mortuary Service is still a family owned and operated business while it continues to serve Mecklenburg County and the surrounding areas today.